17th ANNUAL PRODUCTION SALE !!
August 25, 2018
Capouch Registered Quarter Horse Production Sale
Located at W15556 State Hwy 95 Taylor, WI
Sale Time: 6:00 P.M.(SHARP!) Be on time!
Lunch and Portable available.

Capouch Livestock will be selling their Foremost Array of weanlings.
SELLING WILL BE:
5 -AQHA foals out of "SR Hickorys Pep" an own son of "Doc's Hickory"– AQHA High Point Cutting Stallion. #4 all time Leading cutting sire. # 6 Leading Reined cow horse sire. An NRHA Leading Sire. A leading Sire Of Performance ROM. Sire Of the Earners of Over $ 15,900,000. Sire of 5 AQHA World Champions.
Also out of an own daughter of "Peppy San Badger" – NCHA hall of fame. Sire of Earners Of Over $ 25,000,000. # 1 all time Leading cut sire with earners of $24,460,083 and a Leading Reining Sire.
8 – AQHA foals out of "RJC Genuine Blue" – our foundation bred blue roan stud also out of "Genuine Bee Skip", with a tremendous personality and blue roan color. Genuine Bee produces excellent mare and stud prospects. 85% color on to his colts, lots of blue roans, good disposition, true blue roan, deep muscle horse straight and true.
5 – AQHA Foals out of "Kings Little Smokey" – our "King" bred grullo stud, King bred horses are best known for their tremendous performance ability and cow sense. There are many Quarter Horse legends, but there is only one King – "King P-234" and One of his better known sons include "Continental King", Kings Little Smokey actually has Continental King right on his paper! It'd be hard to find horses out there anymore with King that close up.
2 – AQHA Foals out of "RJC Genuine Quincy" – our unique colored blue roan buckskin stud, from some of our own best bloodlines. Quincy carries that hard to beat exceptional personality, eager to please, easy to train, and is bred to have foals that can excel in a number of disciplines. These two foals are his first and he sure didn't disappoint!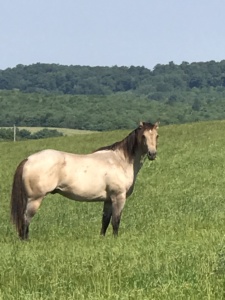 All horses will be sold with current coggins.