24 FOALS SELLING BY PRIVATE TREATY FOR 2023
Capouch Registered Quarter Horses
Located at: W15556 Berg Road. — Taylor, WI 54659

Capouch Livestock will be selling their Foremost Array of weanlings.
SELLING WILL BE:
7 – AQHA FOALS out of "METALLIC AXE" – A red roan, athletic, own son of "METALLIC CAT". These foals out of AXE are beautiful in color and conformation and will be an asset to anyones performance program.
7 – AQHA foals out of "RJC GENUINE BLUE" – our foundation bred blue roan stud also out of "Genuine Bee Skip", with a tremendous personality and blue roan color. Genuine Bee produces excellent mare and stud prospects. 85% color on to his colts, lots of blue roans, good disposition, true blue roan, deep muscle horse straight and true.
9 – AQHA Foals out of "RJC GENUINE QUINCY" – our unique colored blue roan/buckskin stud, from some of our own best bloodlines. Quincy carries that hard to beat exceptional personality, eager to please, easy to train, and is bred to have foals that can excel in a number of disciplines.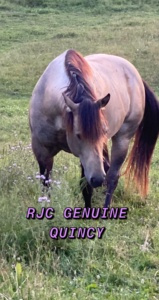 1 – AQHA Foal out of "RJC GENUINE HUCK" – Our blue roan/gray stud, out of our most popular reining, halter, pleasure, and trail lines. Huck has a very calm disposition, aims to please, and is very easy to train and work with!